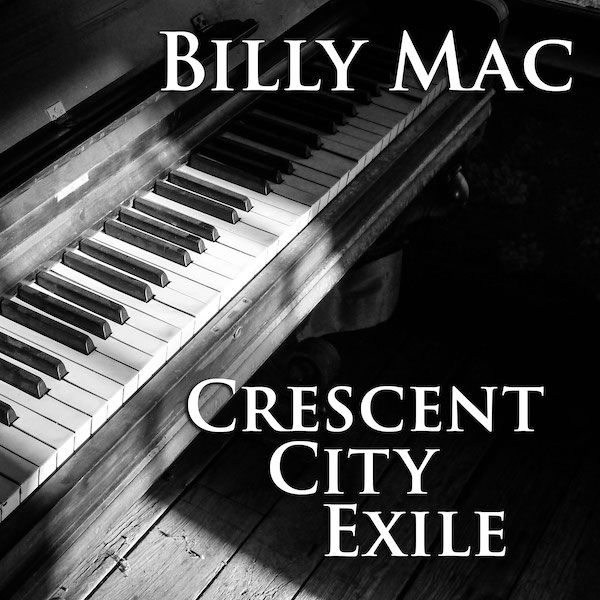 CRESCENT CITY EXILE    11.22.21
Inspired by the city in which Billy grew up, this 12-song collection is a tribute to the sounds and sights and smells of New Orleans.
It's a glimpse into the rich and timeless musical history to be experienced there. This CD includes wistful reveries, flat-out rhythm and blues, haunting, melancholy jazz ballads that hearken back to Billie Holliday and the era of torch songs. And, of course, a couple tributes to the great Allen Toussaint, who not only influenced Billy, but personally guided him.
It is a simmering mix of the sounds and styles that make New Orleans the legendary musical spot on the map that has so long captured our imaginations. Ten sparkling original songs take their place in the parade of great New Orleans tunes and satisfy like a big plate of your mama's etoufee. Click here to order.
 THE OCEAN WAY SESSIONS
August 2021 found Billy Mac at Ocean Way Nashville—one of the nation's best recording studios. Along with Co-Producer Donny Marrow, Engineer Austin Atwood and Musical Director Kevin Madill, Billy recorded 12 new songs.
Drummer Marcus Finnie, bassist Danny O'Lannerghty, guitarists Matt Hemby and Pat Bergeson, and keyboard player supreme Kevin Madill joined together once again to bring a dozen of Billy's new songs to life.
Additional tracks will be added to these cuts at Joy Studios at Merrimac Farm over the upcoming months, then final vocals and mixing begin with engineer Tom Hall.
An late 2022 release has been targeted for this exciting new collection of songs.
THE PLATINUM GARAGE RECORDINGS
This marvelous space is where Preston Glass creates his music – music that exemplifies why he is sought out by some of the most respected names in the business and why he has such an impressive track record of hit projects. Mentored by Hall of Fame producer/arranger/writer Thom Bell, Preston learned his lessons well and honed his craft in major studios with major artists across the country.
Billy and Preston forged an immediate regard for each other, first cutting some of Billy's tunes and then teaming up to write together. The results were impressive as artists like Little Anthony and The Spinners heard their songs and jumped at the chance to record them. (Hear The Spinners sing "Leftover Tears.")
The result of these sessions is a wonderful body of work – Billy on the mic, Preston at the controls and both of them at the keyboard, in the writing room and the studio. Preston likes to call it "Seattle Soul" after the city where Billy lives. Billy also likes to think of his hometown of New Orleans, TSOP, Detroit and West Coast soul as all being part of the common influences he and Preston share, the grooves that make their songs always soulful, yet each distinctive.
With only a song or two left to complete this sweet ensemble of R&B, Billy Mac is pointing toward a 2022 release date. Stay tuned.