BILLY MAC
SINGER – SONGWRITER – AUTHOR
So great to have you here—THE place for Billy's songs and videos and books
and the place to keep up on all the latest releases and upcoming shows.

Raised in New Orleans, Billy grew up playing and singing alongside the legends of rhythm and blues – cutting his first original tunes in the same studios that gave birth to the careers of Little Richard, Huey "Piano" Smith, Fats Domino and Allen Toussaint.
A friendship with the legendary Professor Longhair and the help of Allen Toussaint led him to study piano under renowned symphonic jazz composer, Roger Dickerson.
A few days into his first piano gig at the Backstage 500 Club at Bourbon and St. Louis, New Orleans musical icon Al Belletto heard Billy and his band and hired them to play at the New Orleans Playboy Club, which led to him becoming the touring bandleader for Grammy-nominee Merrilee Rush ("Angel of the Morning").
Next came writing and session-playing stints at Fame Studios in Muscle Shoals, Doc's Place in Nashville and Lion Share Studios in L.A..
It was in Nashville that Billy wrote his first hit single, "Better Our Hearts," a Top-10 hit for Warner Brothers act, Bandana. It was soon followed by his own single and music video, "The Other Side of Town." (continued on About Billy)
Billy's New CD !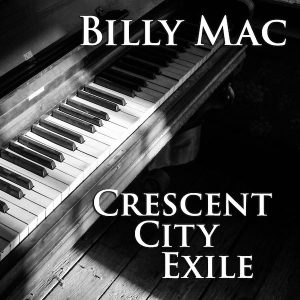 Live Stream Friday Nights
Join Billy every Friday at 8pm Pacific as he and Grammy-nominee Merrilee Rush (the lovely Mrs. Mac) broadcast on YouTube (BillyMacSongs), Facebook (Billy Mac) and Twitch (billymacsongs). He'll be singing and playing the songs he's written for himself and others plus some of your requests! Billy and Merrilee —  an unpredictable 90 minutes of musical fun.
 CRESCENT CITY EXILE   
Inspired by the city in which Billy grew up, this 12-song collection is a tribute to the sounds and sights and feel of New Orleans.
It's a glimpse into the rich and timeless musical history to be experienced there. This CD includes wistful reveries, flat-out rhythm and blues, haunting, and melancholy jazz ballads that hearken back to Billie Holliday and the era of torch songs. And, of course, the tracks include a couple tributes to the great Allen Toussaint, who not only influenced Billy, but guided him as well.
Crescent City Exile is a simmering mix of the sounds and styles that make New Orleans the legendary musical spot on the map that has so long captured our imaginations. Ten sparkling original songs take their place in the parade of great New Orleans tunes and satisfy like a big plate of your mama's etoufee.

THE OCEAN WAY SESSIONS

August 2021 found Billy Mac at Ocean Way Nashville—one of the nation's best recording studios. Along with Co-Producer Donny Marrow, Engineer Austin Atwood and Musical Director Kevin Madill, Billy recorded 12 new songs.

Drummer Marcus Finnie, bassist Danny O'Lannerghty, guitarists Matt Hemby and Pat Bergeson, and keyboard player supreme Kevin Madill joined together once again to bring a dozen of Billy's new songs to life.
Additional tracks will be added to these cuts at Joy Studios at Merrimac Farm over the upcoming months, then engineer Tom Hall will oversee final vocals and mixing.
A fall 2022 release has been targeted for this exciting new collection of songs.

The pros sing Billy's praises
"Billy Mac is one of the most 'soulful' singer/songwriters I know. I love the work we did together on artists like the SPINNERS and LITTLE ANTHONY – he also just happens to be a good person…"
Preston Glass Hit Songwriter ('Who's Zoomin' Who?" "We Don't Have To Take Our Clothes Off") and Producer (Maurice White, The Spinners and countless more)
"Billy Mac is a great tunesmith, entertainer and a joy to work with. He's one of the most prolific writers I've known and is constantly coming up with modern classics plus his stellar performances have captivated audiences for years."
Linda Chelgren KitchenSyncSongs and former VP Creative Licensing at Rondor Music